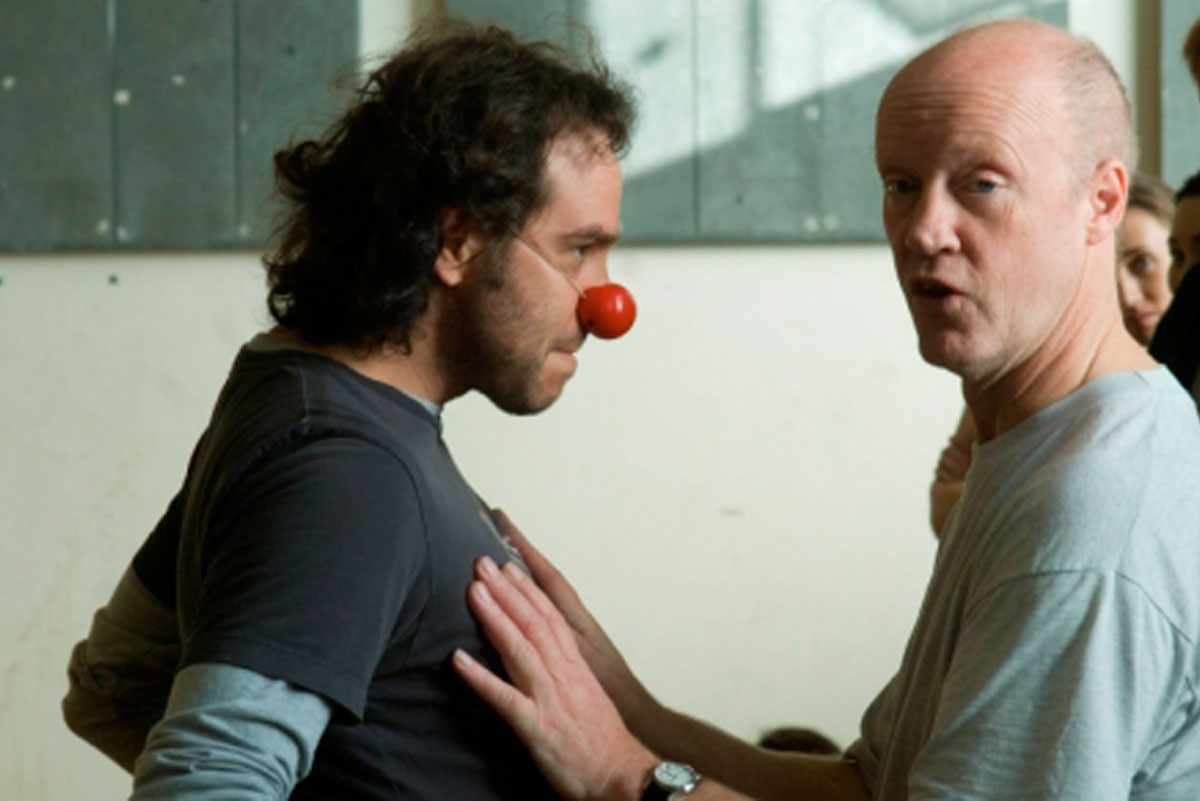 Ficha técnica
Profesor: Clive Mendus
Fechas: Por determinar
Horario: 10h a 15h
Precio: 500€ – 10% de descuento para miembros de la AADPC, Unión de Actores y Graduados por el Institut del Teatre de Barcelona
Plazas: 22 alumnos (20 actores y 2 directores)
Más información: info@artstudiobarcelona.com
About the teacher
Clive Mendus trained at Dundee University, Sherman Theatre Cardiff and Ecole Jacques Lecoq.
His work for Complicite includes Lionboy (as director and performer), The Master and Margarita, Endgame, Measure for Measure, Vanishing Points, Light, The Caucasian Chalk Circle, The Street of Crocodiles, Burning Ambition, Help! I'm Alive, The Visit and Anything for a Quiet Life.
Other theatre credits include Othello (RSC), Delirium (Theatre O), Henry VIII (RSC Complete Works Season, Schtanhaus) and Loot (Derby Playhouse). Television: Doctors, Perfect Strangers, Eastenders and The History Files. Film includes The Emperor's New Clothes. Radio includes Frank the Fifth.
As Movement Director Clive has worked on The Comedy of Errors (RSC), Orange Adverts, Belonging and Behind the Green Curtains (O'Casey Theatre Co. Derry). His directed Dracula, Macabre (Ullaloom Th. Co.) and The Breeze (Hoi-Polloi).
Clive also teaches all over the world including in the US at the O'Neill Institute, Syracuse University and the New York Actor's Center.
About the company
Complicité is an international touring theatre company, based in London. Founded in 1983 by Annabel Arden, Fiona Gordon, Marcello Magni and Simon McBurney, the Company is now led by Artistic Director McBurney OBE and Producer Judith Dimant MBE.
The Company has played in more than 40 countries across the world, won more than 50 awards and been described as '…the most influential and consistently interesting theatre company working in Britain.' The Times
Complicité began life as a collective and this spirit of collective enquiry, of collaborative curiosity, has driven the work throughout its history. The Company is famous for making its work through extensive periods of research and development which brings together performers, designers, writers, artists and specialists from diverse fields to create the works – a process now known simply as 'devising'.
These many diverse Associates – as they're known – have developed and evolved a shared creative language, which provides an anchor for the explorative work that the Company has become famous for and which foregrounds every piece they bring to the stage. This focus on a collaborative devising process has meant that Complicité has also become famous for a distinctive, visually rich stage language, which layers physically beautiful performances and tightly choreographed ensemble work with innovative lighting, sound and video design.
The main body of work has been of devised theatre pieces and adaptations and revivals of classic texts but the Company has also created opera and worked in other media, with radio productions of Mnemonic and John Berger's To The Wedding, a collaboration with The Pet Shop Boys in Trafalgar Square in central London, and The Vertical Line, a multi-disciplinary installation performed in a disused tube station. If Complicité is constantly percolating new collaborators, so too the work is in a constant state of evolution from the actor-led, comic early pieces to the recent vast collaborations directed by McBurney which embrace intellectually challenging material and cutting edge technologies.
In 2015 the Company began a new annual programme: Complicité Associates. Each year, Complicité will work with an emerging or mid-career artist, providing production and artistic support and producing a new show that pushes both the artist's own work and style, as well as stretching Complicité's theatrical boundaries.
Learning and engagement are central to its work and its award-winning Creative Learning programme includes professional development, work in schools and colleges and participatory projects for a range of groups.
Storytelling looks at how to really grip an audience by finding that one crucial gesture, perfectly placed and perfectly timed, when telling a story. This involves the exploration of the rhythms of speech and the punctuation of gesture, and paring these down to a minimum so that even the smallest turn of the hand is significant. It aims at enlarging participants' vocabulary of movement, increasing suppleness and speed of action, being alert and sensitive but not tense, and paying attention to the range of possibilities in every simple movement, from a step to a nod.